I know, I know, the original is starość nie radość which in English is old age is no joy but today I feel more sick than old. I know, I know chorość isn't a word. It should be chorowanie but chorowanie nie radość (sickness is no joy) doesn't sound as cool.
Chory, chorszy, trup (sick, sicker, dead) is another good one. I just recently found out why it is so funny. I had always concentrated on the trup part (trup actually means corpse) as the funny bit because I was unaware that chorszy is the wrong form. It should be bardziej chory. I'm pretty sure I have told the doctor that one of my children was bardziej chorza than the other, thus creating a new and even more interesting form. Feel free to incorporate it into your everyday speech. No charge.
All I need are books and tea and a new upper respiratory system and I'll be fine.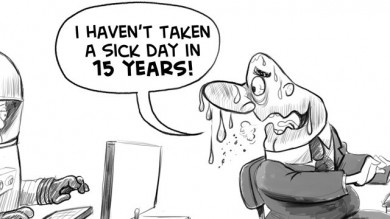 Do you see the guy in the cartoon above? He's my student and that's why I'm sick. Or maybe not. It could be from the bus, or school, or the grocery store. Who knows? I will blame it on my student anyhow. I will get better faster if I can place the blame on his sick face. I really should not be taking any time off. I can't really afford it. I guess that would put me in the 55% group above. I'm going to stuff myself with some OTC drugs and see if I can make it to my afternoon classes…and be like the guy in the cartoon- generously spreading my illness around the city.
In the meantime, I am going to drink some tea and try on dresses. No, that's not what girls do when they are feeling down. It's just one of the benefits of teaching a dress maker (the company, not the seamstresses). I get a lot of dresses every couple of months to take home and try on and then if I want I can buy them for a steal. They are all a bit short though. And I never wear dresses, but who cares? The chocolate factory never gave me free chocolate. The cosmetics company never gave me free make-up. The pharmaceutical company never gave me free drugs. I have to take it while they are giving it.
I'm off to make the tea. Take care and stay healthy!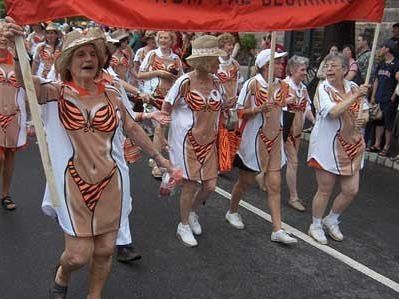 Muuaaah!